For infusion therapy questions and scheduling, call (970) 569-7431.
Monday - Friday | 9:00 AM - 4:00 PM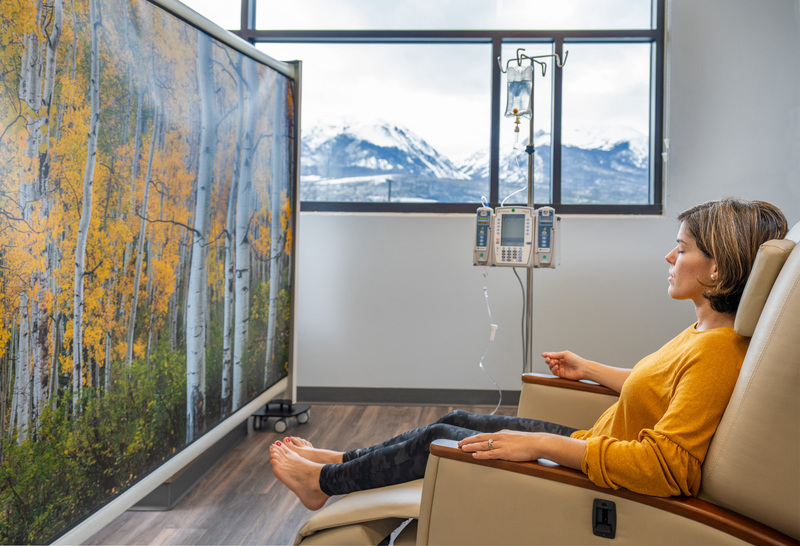 What Is Infusion Therapy?
Infusion therapy is a type of treatment in which medications are delivered directly into the body. Infusion therapy is sometimes called IV therapy because the medication is injected intravenously through a needle or port inserted into a vein. Medications can also be delivered by injection into muscle or fatty tissue.

For cancer patients, Shaw Cancer Center provides chemotherapy, perhaps the most well-known type of infusion therapy. But infusion therapy isn't just for cancer treatment — it can help treat a variety of chronic and sometimes rare conditions including the following:
Asthma
Blood disorders
Crohn's Disease and Ulcerative Colitis
Gastrointestinal (GI) disorders
Immune deficiencies requiring IVIG therapies
Iron deficiency
Multiple Sclerosis
Osteoporosis
Rheumatoid Arthritis
Thyroid Eye Disease and Graves' Disease
Other conditions requiring anti-hormonal treatments or antibiotic infusions
How Does Infusion Therapy Work?
At Shaw Cancer Center, patients receive infusions in a safe and comfortable environment. When receiving infusion therapy, patients will have the opportunity to ask questions, discuss the procedure and get instructions for follow-up care. Providers who have high-level expertise in administering infusions intravenously deliver the treatment as the patient reclines in a chair that's designed to promote comfort and relaxation.
Once the treatment is underway, the infusion slowly drips into the bloodstream. The length of time that it takes to complete the session depends on the type of medication being delivered and on the patient's specific needs. While Shaw Cancer Center provides warm blankets and light snacks, patients are welcome to bring music, books, electronic devices and other entertainment options so that they are as comfortable as possible throughout the treatment.
Find out more about medical oncology at Shaw Cancer Center here:
www.ShawCancerCenter.org/MedicalOncology
.